Chase was born in New York and grew up in Paris, France, which influenced his love for art, poetry, literature, and croissants.
"Growing up I learned 5 languages to varying degrees of proficiency. I speak French fluently but I am most proud of Spanish because I learned it primarily by listening repeatedly to audiobooks of "Harry Potter" until my parents wanted to throttle me."  says Chase.
"Foremost, I am not linear. I love creativity and have always been inspired to add, change or modify things I find interesting. From early on I was always drawn to music, acting, creative writing, filmmaking, and art. I have acted in films, performed in Musical Theatre, Busk in London, and was even a virtual character in the video game Beyond: Two Souls. 
Chase started acting professionally in Paris at the age of 13 while going to school and swimming competitively for his school.  He has studied with legendary performance coaches Judith Malina for Artaudian methods, Marilyn Fried for Stanislavski methods, and Susan Harloe (Word for Word) for Physical Theatre. He had additional training at National Youth Theatre, British Youth Music UK, Ecole Jacques Lecoq, and Royal Central School.
After a stint with the National Youth Theatre he discovered he had a baritone singing voice. Vocal lessons started in earnest until his parents  decided to pack him off to boarding school in Cumbria. "A beautiful place, rather remote, but where I could study what I wanted - literature, art, and drama. It was an absolute revelation to me that this was even possible", says Chase.  
Chase has studied with some of the best voice coaches in Paris and London, jazz singers Valerie Beatson, Lucy Philips, Claire Martin OBE, opera stars Franco Pomponi, Ross Ramgobin, and X Factor coach Ade Bayo.  He has developed a world class bass baritone voice with an astonishing 3 octave range reminiscent of Elvis Presley, and the smooth timbre of Nat King Cole.  He arranges and sings the Great American Songbook Jazz classics, Spanish and French Standards and has taught himself to sing  in 11 languages.
He found a growing passion to compose music and write songs in multiple genres. He taught himself music theory, dropped art and managed to get into Brunel University where he graduated with a degree in Music Composition and later a Masters Degree in Music Production from the University of York. His final thesis was "Exploring Pop Vocal Processing Across Different Genres during the Recording and Production Techniques In Pre and Post Studio Environments" Chase is currently focusing on composing jazz, EDM and a new genre of lyrical Trap
Chase is one of the top professional young bilingual British & French voice over talents in the UK and has worked for Eurostar, YouTube France, SNCF, Editions Hattier and other companies.  
Contact chase at contact (@) chase-emery-davis.com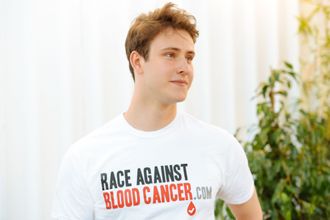 The amazing Chase Davis kicked off the party with an assortment of songs in different languages that got the crowd going. 
Davis is a multi-talented musical sensation who started  his musical career eight years ago. He originally  wanted to become a film actor, but all that changed  when he became enamoured by music. Encouraged by an instructor who loved his baritone voice, Chase  started taking lessons with a renowned jazz and classical  vocalist. He then decided to pursue a bachelor's  degree in composition and a master's degree in music production. 
Born in New York and raised in Paris, Davis is inspired by different cultures and has always been  "people-oriented." For him, music is thrilling, because it allows him to learn about people and where they come from. His passion for music made it possible for him to learn how to sing in 10 different languages, but he is particularly fond of performing in French and Spanish. He considers himself lucky to have studied under musical marvels like Judith Malina, Valeria Beatson, Franco Pomponi and Ade Bayo. 
And he now produces and writes Jazz and Electronic Dance music, and recently started a new lyrical rap  project. Davis even created two special tracks for eniGma's 7th Celebration of Arab Glamour & Success, which he composed using untraditional instruments like the Chinese Erhu and the Egyptian Zither. 
Aside from music, Davis is the voice of Eurostar advertisements in France and has performed as Gaston in the musical production, Beauty and the Beast, and as the Pharaoh in Joseph and the Technicolor Dreamcoat. 
Davis was especially happy to participate in eniGma's event as he enjoyed experiencing the modern side of the Arab region, in contrast to the stereotypes depicted in the western media.
"It's been a busy life, but it's no wonder that his music is bursting with optimism and energy despite the haunting melodic invention of You Don't Need to Cry Anymore."   
"It really is a wonderful track that pulls you in and wraps itself around like you a hug from a long-missed friend."  Richard Dowling, Fresh Faves  Nov 8, 2016  
 
​"I can say with confident, genuine and welcome invigoration that Chase is everything you do not expect. His semi-baritone operatic depths could deceive you into thinking you are hearing a seasoned veteran vocalist the 40 something age mark, but this rare talent is barely pushing 21". Hayes FM Hughie Dixon,