French / British English / Voice Over Artist with Home Studio
Chase is a top young professional British English, French & Spanish voice over actor with a home studio & 10 years professional experience. He speaks a without accent in all 3 languages.
He  has a clear, young, natural, and friendly voice with a warm, timbre playing between 18 and 35 years old in a low to mid register for publicity, corporate, narration, character, gaming and mocap work.
He has worked Eurostar, AirB&B, Editions Hatier, S.N.C.F, Nesquik, YouTube France, AGFA, Nickelodeon and Fujitsu, to name a few and is represented by top talent agencies around the world.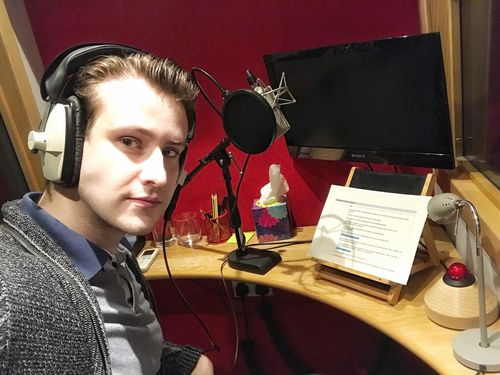 Demos - Young, Natural & Friendly
0:00/0:33

0:00/0:25

0:00/0:31

0:00/3:24

0:00/1:31

0:00/0:28

0:00/0:22

0:00/1:52

0:00/0:33

0:00/1:16
Studio Environment - English Intro
Aston Origin Mic
Never Forget - by Michel Bussi
Chase Emery Davis
0:00/0:40

0:00/0:34

0:00/0:26

0:00/1:01

0:00/0:50

0:00/0:30

0:00/0:26

0:00/2:26

0:00/2:29

0:00/0:23

0:00/0:31

0:00/0:31

0:00/0:38
Studio Environment - French Intro
Aston Origin Mic
Voice Work 
• Binter Canarias 2020 - London
• Ulverscroft Publishing Group 2020 - London
• Neoma Business Schools 2020 - Paris
• Fujitsu  2020  -  London
• You Tube France  2019  -  London
• Eurostar 2019 / 2018 Publicity Voice Over  - London
• Sonepar 2018 Corporate Voice Over  - Paris
• Act it Out 2013 Learn English Video ed. Hatiers (K@ Productions) / Presenter - Paris    
• S.N.C.F 2011 Cote Couloir / Cote Fenêtre Publicity Film (Audiophase) Voice Over - Paris    
• Nesquik 2011 Publicity Ad (78tours) / Voice Over - Paris    
• Panache 2009 Animated Film / Voice Over / Paris   
Testimonials
S.N.C.F
"Un petit mail pour tous vous remercier pour votre super travail d'hier. Une journée bien remplie, je suis désolée que ça ait pris plus de temps que prévu et que certains aient dû à changer leurs projets.  Le programme n'était pas facile et on n'y serait sans doute pas arrivés sans votre aide et votre bonne volonté à tous. Alors encore une fois, de la part de Matthieu et moi : merci ! "  Laura Schaller - AUDIOPHASE http://www.audiophase.com/
"Hope all is well. Just a quick one to say a huge Thank you and bravo to  Chase who was brilliant. Really brilliant!!!!!!!!!  Thank you for all your hard work!!! It really paid off." Anthony HICKLING  
Nesquik  
"Thank you again!!!  It was a really great session, my clients were very happy.  I have a good team now:  
Chase, Kaycie & Andy Chase."  Sonia AUGUSTO 78 tours.
Contact chase at contact (@) chase-emery-davis.com
Chase produces broadcast quality vocals in his home studio near London. 
Films
• Lost Soul 2013 Teaser, Paramita Entertainment / Lead - Paris   
• Beyond 2 Souls 2012 Computer Game Character - Quantic Dreams / Paris     
• Oregon Dreaming 2010 Short Film (Juried) - Director: Oliver McGarvey / Lead - Paris     
• The Crossing 2009 Short Film - Director: David Walz / Lead - Paris   
Testimonials
It gives me great pleasure to write this recommendation for Chase Davis.  I  have taught two acting workshops in Paris, both attended by Chase.  His  dedication to the work was one hundred percent. He came prepared for each  class, ready and willing to work.  He has an enormous talent.  He is able to adjust to new situations at a moment's notice.  He has a great appetite for learning.  Chase was always willing to rehearse with a fellow actor, change schedules and be available for the other actors in the workshop.  He was the youngest member of the workshop and interacted with all the adults so very  well. They absolutely had such great respect for him.   He is well read, charming and he has tremendous potential whether in front of the camera, on  stage or behind the scenes working.  He is most reliable in all aspects. I have had great pleasure in writing this recommendation for him.  
I remain,  Marilyn Fried,  New York 
(Acting Coach for Academy and Emmy Award Wining Actors, Member of the  Actors Studio and student of Lee Strasberg)  
OREGON DREAMING  
Link  
I had the opportunity of working along side Chase  Emery Davis during the shoot of a short film written and directed by myself.  Chase performed the lead role in a difficult shoot that required much  discipline and, for lack of a better word, mental and physical toughness. He powered through the 10 day film shoot with grace and was a key element in our production. Chase has a bright future ahead of him and anyone would be  lucky to work with him.  
Sincerely ,  Oliver McGarvey
Chase studied with legendary performance coaches Judith Malina for Artaudian methods, Marilyn Fried for Stanislavski methods, and Susan Harloe for Physical Theatre. He had additional training at National Youth Theatre, Youth Music UK, Ecole Jacques Lecoq, and Royal Central School. 
Acting Training
• Artaudian 2014 No Cure for the Cross: 2013 Alice : Devised & Performed / Dallam, Cumbria   
   2011 Expression & Artaudian Ideology - Judith Malina / Living Theater - Paris   
   2010 Devising / Movement Workshop - Suzuki / Lecoq / Drama Ties - Paris   
• Stanislavski 2010 & 2009 - The Acting Craft - Marilyn Fried - Paris 
   2007 & 2008 - Bilingual Method Acting - Alexa Rutherford, Nick Millett - Paris   
• Various 2014 Movement & Text - Ecole Jacques Lecoq - Paris   
   2013 Actors Audition Pieces - Royal Central School / London   
   2011 Summer Program - National Youth Theatre / London   
   2010 Film Audition Skills - Stephane Foenkinos / Paris   
   2008 Physical Theater - Word for Word / Susan Harloe - Paris